وقت القراءة
4
دقيقة
Renad Al Majd Saudi Arabia "RMG" signed a strategic partnership agreement with the UK project "AXELOS", to provide its clients in the Kingdom of Saudi Arabia with the best international training programs and internationally recognized certificates in IT services management and project management.
The importance of the agreement for the market in general and the Saudi market, in particular, lies in providing a number of the best training programs and methodologies used globally to develop professionals working mainly in IT services management and project management.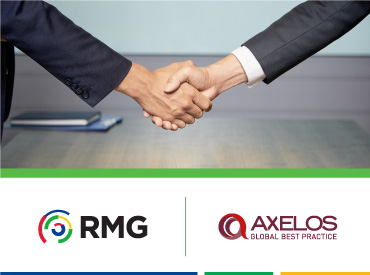 It is worth mentioning that the "AXELOS" project is a joint venture established in 2013 by the British Council of Ministers and Capita Company. The project develops, manages, and operates a number of the best training programs and methodologies used globally to develop professionals primarily engaged in IT services management and project management. , Works in the private, public, and volunteer sectors in more than 150 countries to improve employee skills and competence to make both individuals and organizations work more professionally and effectively.
In our keenness in Renad Al Majd Company to contribute to market development and build strategies in line with the Kingdom's vision (Vision 2030);
We are pleased to announce the signing of a partnership agreement with the "AXELOS" project to provide international training programs and internationally recognized certificates And to provide the best technology solutions in the Arab markets.
Accordingly, it was agreed with the company "AXELOS" to provide some of its services within the Kingdom of Saudi Arabia, including:
ITIL (Information Technology Infrastructure Library):
It is a set of concepts and practices for achieving high-quality IT Service Management (ITSM). It is known that companies with employees possessing advanced certificates in ITIL are pioneers in the development and implementation of IT management services.
ITIL is an internationally recognized certification in the field of information technology, which is supervised by AXELOS. The program contains a series of certificates that qualify for the degree of professionalism in the field of IT services management.
Prince2 Certificate in Project Management:
PRINCE2 is the most popular professional project management certification, and reports indicate that PRINCE2 is the most powerful global project management certification, in 2013, more than 158,000 exams were taken!
The PRINCE2 Agile Project Management Certification:
It is one of the latest additions to the Project Management Certification Board. As a comprehensive turnkey business solution, allowing focus on management and timely delivery, it blends the principles of Project Management (Prince2) with a flexible delivery framework (Agile).
This might sound like a somewhat strange and contradictory combination, but it can work very well together.
The Prince2 Agile certification is available at two levels: Foundation and Practitioner.
The Management Successful Program (MSP) certificate enhances the ability to organize and manage large projects. It also works to develop your practical skills from designing, planning, and implementing programs for large projects. It is considered one of the strongest internationally recognized certificates in the field of program management.
AXELOS provides three levels of MSP certification, which is the MSP Foundation, the first certification that can be obtained and qualifies for entry into the field of successful program management, the MSP Practitioner Certificate, which you can obtain after obtaining the basic certification, and finally, the certification MSP Advance Practitioner is the top certification in the Axelos Program for Successful Program Management.
A value management program helps organizations and individuals manage their projects, programs, and services consistently and efficiently. It also guides key principles, processes, techniques, and approaches for all business data.
The Project, Programs, Portfolio Offices Management (P3O) program gives you an accredited international certificate, the possession of which reflects your interest and familiarity with the basic principles, methodologies, and methods used within the knowledge guide for a certificate. (P3O)
The agreement also provides for the provision of institutional evaluation services (assessments), and the services that will be provided by Rinad Al Majd Information Technology (RMG) in partnership with AXELOS are:
The Assessment and Maturity service Model (ITIL) was developed to help organizations better manage their IT services within the ITIL framework. It also contributes to a description of the organization's level of maturity, a plan for how to improve, and the ability to maintain results and track improvement.
P3M3, also known as the "Project and Program Management Maturity Model", is a Management Maturity Model (M3) and a method for measuring an organization's ability to evaluate its projects, programs, and portfolios.
Now, within the Saudi Arabia kingdom companies and organizations, can take benefit from the institutional assessment services and capacity measurement models through Renad Al Majd Information Technology (RMG) representation of the British company AXELOS.
The general manager of Renad Al-Majd Company (RMG),  Mr.Abdul Karim bin Muhareb explained: The partnership with "AXELOS" is a very important addition to the list of companies and institutions that have placed their confidence in the company "RMG" to provide technology services in the Kingdom through his company "Renad Al Majd", adding:
The services provided by Renad Al Majd are considered the first in the Kingdom.
Mr. Abdul Karim also added, our customers can take the exam directly to obtain the previously mentioned international certificates or register in training programs that qualify you for those certificates, and training programs will be provided by Renad Al Majd (RMG) for Information Technology in partnership with the British company (AXELOS).
And Mr. Abdul Karim: "We always strive to search for the latest technologies that enable our customers to achieve business quality using the most efficient tools, and to provide them with a unique experience that enables them to manage the business by applying best practices to enhance efficiency, effectiveness, governance, and overall quality."
 We have to notice that AXELOS project agreement, comes within a group of services and other agreements entered into by Renad Al Majd Company (RMG) to help companies .develop their business environment to comply with the requirements of the new digital world, and harmonize business with the latest digital technologies in the current technological era.
[/vc_column_text][/vc_column][/vc_row][vc_row][vc_column][vc_cta h2="Contact us for a free consultation, we love hearing your words." style="custom" add_button="right" btn_title="REQUEST CONSULTATION" btn_style="custom" btn_custom_background="#0668b2″ btn_custom_text="#ffffff" btn_shape="rounded" btn_size="xl" btn_align="left" btn_contextual="info" add_icon="left" i_type="linecons" i_icon_linecons="vc_li vc_li-bulb" i_color="black" i_size="xl" btn_button_block="true" btn_link="url:https%3A%2F%2Fwww.rmg-sa.com%2Fen%2Fcontact%2F|||" btn_animation_type="fadeIn" custom_background="#f4f4f4″ custom_text="#ca0d45″]
Learn about the training programs offered by (RMG).