Do you suffer from slow servers, outdated capacity, or do you need an upgrade for compliance? Have you started thinking about turning to a cloud data center? Perhaps you're looking for a reliable solution for virtualization or business continuity in the face of disaster?
RMG offers a wide range of data center solutions and cloud services to serve our customers' diverse needs.
We implement scalable data center infrastructure services that help you achieve new levels of agility, efficiency, and manageability. Our team of engineers is experienced in designing physical and virtual environments, storage, data center networking, and application deployments.
Data center security services at RMG will keep your servers protected from threats.
The datacenter Services that we offer cover all four key areas of an IT infrastructure lifecycle: from Design, Build, Improvement and Management. Our expertise lies in the system integration and systems management aspects of the IT infrastructure, and we provide the following services:
Data center optimization: Helps your business deliver more efficient and cost-effective data-center services to business users, while improving service availability.
Data center automation: Automates the typically manual tasks associated with provisioning, patching, and support of data center services.
Private cloud implementation: Builds Infrastructure-as-a-Service (IaaS) cloud computing solutions aligned to a service catalog, with optional service assurance definitions, and metering and building.
Hosting and Co-location services – Our hosting and Co-location facilities offer space, security, cooling, power, and bandwidth for hosting and co-locating data infrastructure. Businesses then typically purchase, configure, and maintain all their hardware in the co-location facility. In addition, your colocation solution with SCI may involve SCI's Cloud & IT Services to assist or provide cloud services and resources.
Datacenter Managed Services –Our Datacenter Managed Services capabilities are deep and varied, ranging from Infrastructure Management (Cross-platform Server/Network/Storage management and Support in virtual and physical environments) to Remote Centralized monitoring of the Datacenter.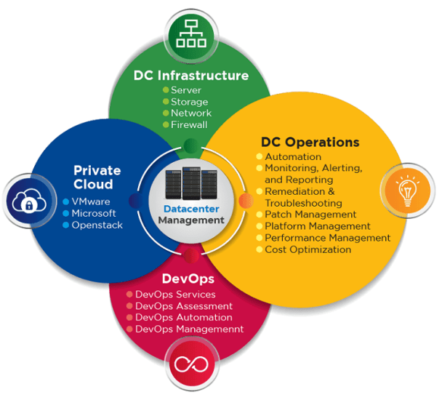 Cloud Data Center
You can now have increased flexibility and significant cost savings with a cloud-based data center. Public or private, RMG can help you implement and manage a cloud infrastructure that is tailored to your needs.
Beginning with a comprehensive cloud migration assessment, our team will identify your current workload requirements to find the best cloud entry points based upon your unique business needs.
Business Continuity
RMG will help you build a resilient foundation for your business. We'll work with you to identify key applications and services to develop a Recovery Time Objective (RTO) as well as a personalized plan for maintaining your business when disaster strikes.
Lower costs and reduced complexity
Easier and more cost-effective datacenter management
Better resource utilization
Better application performance
Increased availability
CONTACT US TODAY AND WE WILL BE HAPPY TO SERVE YOU