mohammad ahmad
Riyadh - Media Center for Renad Al Majd for Information Technology
The Governmental Affairs at King Abdullah University of Science and Technology (
KAUST
), in cooperation with the advisory team of
Renad Al Majd Company for Information Technology
, has made a new achievement that is added to its entrepreneurial journey in supporting the education and technology process and its implementation by the highest international quality standards.The Governmental Affairs Management Department has obtained the international accreditation
ISO 9001
, which focuses on building a quality management system through improving performance efficiency; to affirm the university's keenness to contribute to achieving its students and employee's satisfaction through enhancing work quality, institutional excellence, and global leadership.
Commenting on this achievement, University President
Professor Tony Chan
stressed the importance of this international certificate and
said
: "We are keeping pace the international standards and we are striving to develop the system and enhancing it with the latest ideas and innovations, not only for the university's quality system but in all work environments that need these requirements".
Professor Chan
continued his speech, saying: "It is fortunate that the university's work axes in the field of scientific research focus on the most prominent challenges that facing the Saudi Arabia Kingdom, so when the Kingdom's
2030 vision
came carrying with it a great, integrated and broad project about the entire future, our previous work axes were part of it. We will not stop at these axes, but we will continue with all effort and perseverance to keep pace with all that we can innovate and accomplish from the rest of the great and inspiring vision axes that accurately define the Kingdom's features future.In turn,
Professor Ibrahim Al-Thunayan
, Vice President for Governmental Affairs, stressed the importance of obtaining international accreditations as a starting point for solid institutional work.
Professor Al-Thunayan
also mentioned that this award means a lot, in the first place the existence of a global system that is applied in the university and the administration of government affairs, and the second is to create competition to provide services and processes that are balanced with what is provided in all countries of the world and to contribute to achieving the goals of national transformation, which represents one of the Vision 2030 programs, in addition to the existence of this environment that contributes and helps in attracting global talent from students, researchers, and scientists.And Al-Thunayan added that: "The management's obtaining
ISO 9001
also means that we aspire to continue annually in providing distinguished services. ISO certificate is considered an annual evaluation performance. We have aspirations to obtain more international certifications and prizes that live up Our wise leadership to reach the international standards and standards that the Kingdom seeks.
The Vice President of King Abdullah University for Governmental Affairs concluded:
"I say it with complete certainty that our dedication and the creative efforts of our employees are the first seed for our distinction, and this was our first and last goal. And we're very welcome to have any rewards destined for us or international certification to distinguish us if it's coming, it is not What we aspire to, it is a catalyst for more distinction, achievement, and innovation".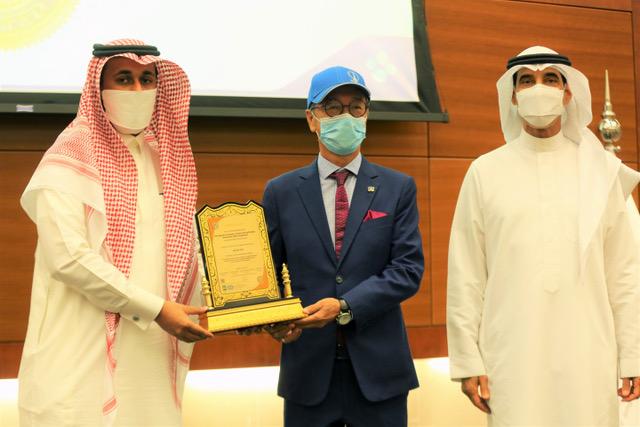 The General Manager of
Renad Al Majd Information Technology
- the project advisory
Mr. Abdul Karim bin Muhareb
, confirmed that obtaining the accreditation of the international standard
ISO 9001
(ISO 9001: 2015) comes in light of the university's keenness to improve the quality of services provided to students and researchers. He emphasized that meeting the standard specification requirements within the framework of the commitment to address and manage complaints of students, teachers, and researchers by setting achievable goals based on identifying existing risks and opportunities.
Mr. Abdul Karim
indicated that the Government Affairs Department is fully committed and keen on the quality of services provided by it by adopting a long-term plan aimed at improving the level of its services to ensure customer satisfaction, enhancing the application of its governance, and achieving excellence and leadership.
Professor Ismail Al-Asiri
, Director of the Quality System Development Project at the University, indicated that the measurements and review of the team of experts in the project began with the organizational structure of the administration in five phases, which included the study and gap analysis phase, the training and awareness-raising phase, and the design and documentation phase of the quality system.
Al-Asiri added
: After that, the application and simulation phase began through the visits and reports field that prepared by
Renad Al-Majd Company for Information Technology
following the standards related to the quality management system, then visits and the final report of the British donor company by international standards and the application guide in higher education institutions.It is good to mention that
King Abdullah University of Science and Technology
is a world-renowned postgraduate research university that makes tangible contributions to scientific and technical progress, and is expected to play an important role in the development of the Saudi Arabia kingdom. Members of the university community are committed to the values of achievement, enthusiasm, inspiration, diversity, openness, and integrity, and they must always observe them in their behavior and adhere to these values, whether in their personal capacity or as representatives of the university.King Abdullah University of Science and Technology provides master's and doctoral degree programs, which are divided into
three main academic departments
:
Department of Biological and Environmental Sciences and Engineering: (Biological Sciences, Environmental Sciences and Engineering, and Marine Sciences...).
Department of Computer, Electrical and Computational Sciences and Engineering: (Mathematics and Applied Computing Sciences, Computer Science, Electrical Engineering, ...).
Department of Science and Physical Engineering: (Chemical and Biological Engineering, Chemical Sciences, Geosciences and Engineering, Materials Science and Mechanical Engineering).
As for
Renad Al Majd for Information Technology (RMG)
, it is a leading local company in the field of
consulting
,
digital transformation
,
cybersecurity
, and
information technology
with a global presence. It has many specialized consultants with experience and technical know-how in the various governmental, industrial, and service sectors.
Renad Al Majd for Information Technology (RMG)
, through its firm presence in the region and with its openness to the world and following the latest global technological changes, was able to achieve great success for all its projects with its customers and partners with the highest efficiency and effectiveness and with the least possible risk.