وقت القراءة
4
دقيقة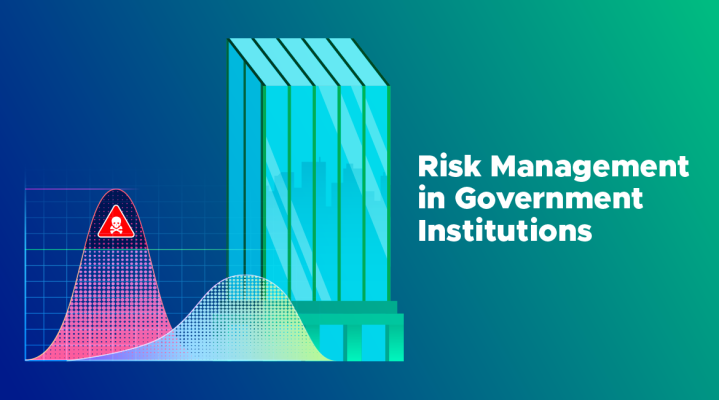 When we talk about government institutions, we must consider sustainability and security to meet the needs of citizens. However, these institutions undoubtedly face risks that can impact their security and stability, consequently affecting their ability to perform their functions. This is where the importance of risk management in government institutions comes into play, assisting them in protecting themselves from potential risks.
In this comprehensive guide, we will delve deeper into the significance of risk management in government institutions and its role in security and sustainability.
Firstly, let's understand:
What Is Risk Management in Government Institutions?
Risk management in government institutions is an organizational and strategic process to identify, assess, and manage potential risks that may affect an organisation's goals, mission, and performance.
This strategy aims to mitigate the negative impact of risks and enhance the benefits of favourable opportunities.
In the governmental context, the risks addressed by risk management encompass various aspects.
Let's explore some of them: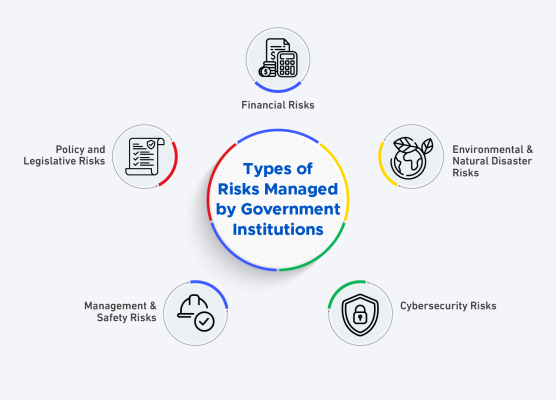 Types of Risks Managed by Risk Management in Government Institutions:
These risks include cyberattacks, hacking, data breaches, and electronic intrusions.
Policy and Legislative Risks:
Changes in policies, regulations, and legislation that can impact the organization's operations fall into this category.
Financial risks involve changes in the organization's budget, unexpected expenses, and reductions in government funding.
Environmental and Natural Disaster Risks:
These risks encompass natural disasters such as floods, earthquakes, and severe weather phenomena.
Management and Safety Risks:
Management risks may involve poor governance, corruption, and a lack of transparency.
Principles of Risk Management in Government Institutions:
Risk management in government institutions relies on several fundamental principles, including:
Integration:

The long-term strategy of the organisation should include risk management as a core component.

Comprehensiveness:

Risk management should cover all aspects of the organisation, including processes, systems, and personnel.

Continual Improvement:

Risk management should be an ongoing process throughout the year.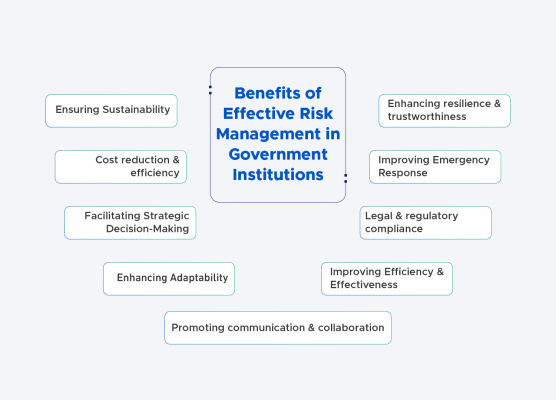 Benefits of Effective Risk Management in Government Institutions
Risk management helps identify, assess, and manage potential risks, ensuring the sustainability of government services and the stability and continuity of operations.
Enhancing resilience and trustworthiness:
Effective risk management guides processes and decision-making based on available knowledge, building trust between citizens and government institutions.
Cost reduction and efficiency:
Through risk analysis, areas for improvement can be identified, and resources can be allocated efficiently, reducing costs.
Improving Emergency Response:
Risk management in government institutions assists in developing specific and informed emergency plans, enhancing the organization's ability to manage crises and disasters effectively.
Facilitating Strategic Decision-Making:
It provides essential information for making informed strategic decisions, increasing the organization's success in achieving its objectives.
Institutional risk management helps ensure compliance with all relevant laws and regulations, reducing the risk of legal issues.
Risk management allows the organisation to be flexible in responding to environmental, political, economic, and social changes.
Improving Efficiency and Effectiveness:
It helps improve efficiency and effectiveness by reducing disruptions and enhancing decision-making.
Promoting communication and collaboration:
It encourages internal collaboration and communication among different departments and functions within the organisation.

Methods of Risk Management in Government Institutions
Risk management in government institutions involves a set of strategies and practises aimed at analysing, evaluating, and managing risks effectively and efficiently. Here are some common methods:
1- Risk Analysis:
This process involves identifying and categorising risks that may impact organisational objectives.
Techniques such as risk classification, impact analysis, and probability assessment are used to evaluate risks.
Advice: It is crucial to accurately identify the tasks at hand and the risks they represent. Risks that are not identified cannot be managed!
2- Risk Mitigation Planning:
Based on the results of the risk assessment, strategies and policies should be developed to address the identified risks. These strategies may include risk mitigation, risk transfer, risk avoidance, and risk acceptance.
3- Emergency Planning:
The organisation should prepare specific emergency plans to deal with potential disasters, such as natural disasters or security threats. These plans should be comprehensive and include clear steps for handling emergencies.
4- Training and Awareness:
Employees should be educated about the importance of risk management and trained on how to manage risks and execute emergency plans. Regular exercises can be scheduled to assess organisational readiness for potential crises.
5- Monitoring and Evaluation:
The organisation should monitor the implementation of risk management policies and provide regular interim reports. Policies and procedures should also be reviewed periodically to ensure improvement and adaptation to changes.
6- Economic Analysis:
This analysis involves evaluating the potential costs and benefits of implementing risk management interventions.
Economic analysis helps make informed allocation decisions.
7- Partnerships with Other Entities:
Risk management may include partnerships with security agencies and other organisations to exchange knowledge and resources in the field of risk management.
In conclusion,
Risk management in government institutions is the key to success and sustainability. Understanding, assessing, and taking appropriate actions to address risks represent crucial challenges in achieving government objectives effectively and efficiently.
Therefore, there is an urgent need for specialised risk management companies, such as Renad Al-Majd Information Technology Company, the leading company in the Kingdom of Saudi Arabia.
The company recognises the challenges that government institutions face in effectively implementing risk management.
RMG provides specialised consultations for the implementation of the Risk Management System (ISO 31000), enabling government entities to adopt best practises in risk management.
For consultation and training programmes that are specifically designed to meet your risk management needs, contact Renad Al-Majd right away. 
Let us cooperate to build a stable future.